Betty Hyatt Green (May 14, 1933 – September 6, 2019)
Friends of Historic Woolsey joins Betty's family in remembering her on what would have been her 90th birthday.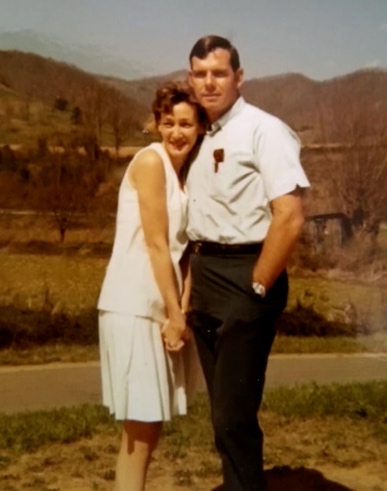 "A longtime resident of the community of Woolsey, Betty Green was a member of Woolsey Baptist Church and is buried in the cemetery. Betty (our mom) was considered one of the best cooks and seamstresses in Fayette County. She prepared many meals for football players, youth groups, church dinners, as well as always providing wonderful meals for her family and anyone who happened to be at our house at mealtime. Mom sewed countless wedding dresses for many young brides and never charged a penny. She was most known for her cakes – Wedding cakes, Caramel, Chocolate, Red Velvet, Italian Cream, and her famous Pound Cake. If you lived in Fayette or even in Atlanta, you wanted a cake by Mrs. Betty Green. She was generous to a fault and not only lovingly remembered by her family but by her community as well. It is a privilege as her family to make this donation on what would have been her 90th birthday to your organization, and we look forward to seeing the wonderful transition of the church and property

."



– Terry Green Wilson

"We moved to Woolsey in 1971 on 298 acres of beautiful land that we memorably called "the farm." At that time, the name of our dirt road was Mud Road, and I think our family of seven nearly doubled the population! We purchased the farm from the Peeples family, and it still had many of the old farm buildings on it… an old farmhouse, blacksmith shed, curing/ smoking house, sharecroppers' cabins, corn cribs, chicken coop, and a barn. It was fascinating to rummage through the remnants of the old way of life.

Our mail had to picked up from the Woolsey Post Office every day; there was no mail delivery. The Woolsey community was small, but connected. You only had to make a call to a neighbor for help with anything - cows, cars, tractors, well pumps … everyone was there for each other at a moment's notice. I can't help but think that this was a blessing from the seeds planted by Dr. Woolsey.
We joined Woolsey Baptist in 1972. The membership was small but faithful, and the people who went there were just good folks. There were "meals on the grounds," great piano playing, and singing the old hymns.
Our door was ALWAYS open (and never locked) to neighbors, friends, family, exchange students, etc. (even our pet calves, who occasionally pushed the back door open and came inside!) as well as the visiting missionaries and the seminary student pastors who would work at the church in the summertime. Even though we had a big house, it was generous, cozy, and welcoming for all who entered. Mom cooked and baked a lot of the meals on an old time wood cookstove that she and Dad put at the house. It also warmed the family room where we hung out. Mom cooked the Wednesday night suppers for the church, and she and Dad were faithful members for their whole life (and he at age 93 still is)! They often hosted the youth group at "the farm" (long after their own kids were out of the house). You know about the wedding cakes and dresses…too many to count, and it was all done as a gift from Mom. For awhile (I think a year or two?) she wrote a witty, informative cooking/ baking column for The Fayette County News."

– Trisha Green Pearson