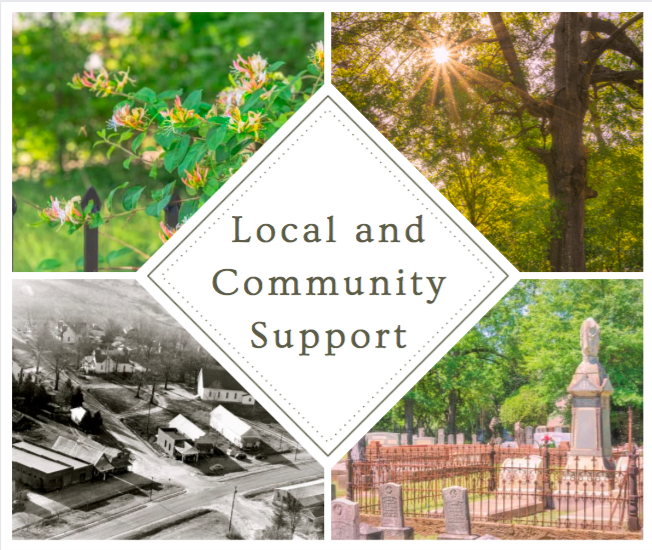 "The two highest points in Woolsey are occupied by her church and school house.
Each is complete in every particular, and as they hold the highest places in point
of position, so they have the warmest places in the hearts of all her citizens."
– The Fayetteville News, "Something about This Town," January 12, 1894

"We do not honor the historic buildings in our midst, nor those who
once inhabited them, by trapping these structures in amber or sequestering
them away behind velvet ropes. We do it by working to see that they
continue to play a vibrant role at the heart of the community."
– Stephanie Meeks, Author of The Past and Future City: How Historic Preservation is Reviving America's Communities

We are very excited to learn the heirs of the Reverend, Doctor I. G. Woolsey have decided to bring back to life one of the most notable and historic structures in our town. Our citizens have made it clear that preserving our remaining historical structures is a major priority in our long term planning efforts. The restoration of the Historic Woolsey Baptist Church will be another great step forward in accomplishing this goal in addition to preserving Woolsey's small town heritage that so many have come to appreciate. We look forward to assisting the family in this effort in any way we can and appreciate their commitment to our town.
– Gary Laggis, Mayor of Woolsey and Board Member of Friends of Historic Woolsey

The old Woolsey Church and Cemetery are historic landmarks in our village center, in many ways the heart of the community. Neither is any longer connected to a church congregation formally, and the cemetery is no longer selling lots, although burials still happen on occasion in already-committed lots. The classic old country church building stands empty and forlorn, and might last ten or fifteen more years, in ever deteriorating state, without restoration. The historic and picturesque cemetery, once active burials cease, risks becoming overgrown and unattended as generations pass. The efforts of Friends of Historic Woolsey to underpin both these projects with permanent financing and folks committed to preserving this heart of the community for future generations to enjoy are critical for the community and deserving of support.
– Dan Langford, Mayor of Brooks and Ex-Officio Board Member of Friends of Historic Woolsey

On behalf of the members of Woolsey Baptist Church, we are grateful beyond words for the vision and forethought of Dr. I. G. Woolsey when he decided to dedicate a portion of his property towards a church. Along with other ways, his legacy lives through Woolsey Baptist Church. We are also honored to have returned the property to Friends of Historic Woolsey. As the church has moved on to a different meeting location just down the road, we are excited to see what lies ahead for the historic church building and cemetery. While restoring and preserving our heritage comes with its share of challenges, the steps taken by Friends of Historic Woolsey today will allow our generation and future generations the privilege of seeing Dr. I. G. Woolsey's vision for a holistic community become a reality!
– Steven Chambers, Staff Pastor, Woolsey Baptist Church

A community comes to life when it preserves its past. A wise elder once told me that if a community knows its past, it will have a better chance to plan a positive future and live in a thriving present. The built environment tells the story of social and economic growth of each individual area. It is not all mansions but the entire broad spectrum that makes the fabric of a community. It needs to document the growth, the disrepair, and the reconstruction to tell the whole story. The quilt of a community extends to the cemeteries. These gardens where those who came before us rest tell us the story of how a community came to be what it is right now. The preservation of the stories, the buildings, residential, commercial, spiritual, and playful, brings visitors who want to learn more. These also help local citizens value what is uniquely theirs. So please take time and put in the effort to keep your community's past in the present and build your own future.
– Deborah Riddle, President, Fayette County Historical Society
Locust Ridge, TN; Sinking Springs, KY; Atlanta, TX; Basking Ridge, NJ; Plains, GA; Stonewall, TX; or maybe French Lick, IN: these are small places that dot the map across this great country of ours. Similar in their obscurity, each represents the early years of presidents and celebrities who were born and bred there. As well as the many unknown folks blessed to be born there. For me, Woolsey, Georgia is such a place, because of the rich heritage left to me inherent in the many substantial homes and smallest shacks that housed and bore the beginnings of many like me. I cannot say enough about those who have embraced the history of Woolsey and the surrounding area by "Preserving our Yesterdays for Tomorrow."
– Richard McLean, Author and Fayette County Native